As a B2B business, are you tired of jumping through hoops to close sales? Do you pour time and money into generating promising leads, only to have them go into a black hole of unread emails and never-ending follow-ups? Does your sales process feel scattered and disjointed, with poor communication between teams?
Well, You're not the only one feeling this frustration.
Many B2B organizations struggle to manage their lengthy sales cycles because they lack the tools to effectively track leads and opportunities. Without visibility into your pipeline, sales reps work blindly, marketing assets are wasted, and deals stall without reason.
Your well-earned leads shouldn't disappear into a void. Take control of your sales process with a solution tailored for B2B success. With the right systems in place, you can optimize workflows, monitor your pipeline's health, and maximize conversion rates. In this blog, we'll look at the main competitors in the industry, each claiming for the title of Best B2B CRM System.
What is B2B CRM Software
?
B2B CRM (Business-to-Business Customer Relationship Management) software is a specialized software that assists businesses in managing and optimizing their connections with other businesses. It serves as a central store for essential data on business customers, partners, suppliers, and other stakeholders. Businesses can use B2B CRM software to track communication, manage sales and marketing efforts, and streamline many parts of the B2B relationship, which leads to more effective collaboration, more customer satisfaction, or revenue growth. It often includes features such as contact management, lead tracking, opportunity management, and analytics that are targeted to the specific needs of B2B businesses.
Read Also: Best CRM for Real Estate
Key Features of Best B2B CRM Software
To be considered the best B2B CRM software provider in 2024, a platform should offer a range of essential features, including:
Contact and Account Management: B2B CRM software allows you to keep specific information about your client base, such as contact information, company profiles, and previous contacts. This helps in the maintenance of an extensive database of your company ties.
Sales & Lead Management: CRM software assists in the tracking of sales leads, opportunities, and the full sales process. It enables sales teams to organize and prioritize leads, forecast sales, and collaborate on deals.
Opportunity Tracking: B2B CRM solutions allow you to track and manage prospects or deals as they progress through the sales cycle, from initial contact to deal closure.
Pipeline Management: You can visualize and manage your sales pipeline, providing insights into potential revenue and assisting sales teams in focusing on high-priority projects.
Task and Calendar Management: B2B CRM solutions include features for scheduling tasks, appointments, and follow-ups, allowing you to keep organized and on top of customer interactions.
Analytics and Reporting: B2B CRM software includes reporting and analytics tools that will help you in analyzing sales performance, customer interactions, and other relevant information in order to make data-driven decisions.
Customization: B2B CRM software can be customized to meet your individual business operations and requirements. Creating custom fields, workflows, and automation rules are all part of this.
Why is CRM software important for B2B companies?
Managing customer Information: CRM software enables B2B businesses to centralize and organize customer data, such as contact information, communication history, purchase history, and other relevant information. This allows sales and marketing teams to better understand their consumers and prospects and adjust their interactions and products.
Marketing Campaign Management: B2B businesses frequently run marketing campaigns to reach out to potential customers. CRM software can help in the planning, execution, and analysis of these campaigns by tracking leads, measuring conversions, and calculating ROI.
Collaboration and Communication: CRM software often includes team collaboration and communication functions. This enables employees from several departments to share information and collaborate to deliver a more uniform and smooth customer experience.
Customer Retention and Upselling: B2B organizations can improve customer retention and uncover possibilities for upselling or cross-selling additional products or services by understanding their customers' requirements and preferences.
Integration with Other Systems: Many CRM solutions include the ability to integrate with other software, including as email marketing tools, accounting software, and e-commerce platforms. This integration improves productivity by streamlining business processes and reducing human data entry.
Customer Support and Service: Several B2B companies offer their customers ongoing support and services. CRM systems aid in the management of customer service requests, the tracking of service history, and the provision of fast responses, all of which can improve customer satisfaction and retention.
Read Also: Benefits of CRM
| | |
| --- | --- |
| B2B CRM Statistics | Data |
| CRM Impact on Sales Revenue | According to a Nucleus Research report, CRM applications can deliver an average return of $8.71 for every dollar spent, showcasing a substantial impact on sales revenue. |
| B2B Companies Adopting CRM | A survey by Capterra found that approximately 75% of B2B companies use a CRM system to manage and optimize their customer interactions and sales processes |
| CRM and Customer Retention | Harvard Business Review suggests that increasing customer retention rates by just 5% can result in profit increases ranging from 25% to 95%, underlining the role of CRM in customer retention. |
| CRM Adoption in Small and Medium Enterprises (SMEs) | According to SMB Group, around 56% of small and medium-sized enterprises (SMEs) have adopted CRM solutions to streamline their sales and customer management processes. |
| Impact of CRM on Sales Productivity | Sales teams that use CRM tools can experience a 15% increase in productivity, as reported by Salesforce, highlighting the efficiency gains associated with CRM adoption. |
| CRM and Improved Customer Experience | A study by SuperOffice indicates that businesses that prioritize customer experience through CRM see, on average, a 10-15% increase in revenue and a 20% increase in customer satisfaction. |
Now, let's delve into the Best B2B CRM software providers of 2024, each vying for the title of the best in the industry.
SalesTown: SalesTown CRM is a revolutionary B2B CRM software that aims to improve businesses sales and customer relationship management processes. It focuses on lead management, pipeline tracking, and analytics tools.
Pricing: SalesTown has a free version that includes basic features. paid plan start at around 4.79$/user/month.which cost is less than a coffee per day for a Single Sales Person.
Key Features:
Lead and contact management
Sales pipeline and opportunity tracking
Email marketing and communication tools
Customizable reports and dashboards
Integration options for third-party apps and services
Take the Next Step: Book Your Free CRM Demo
HubSpot CRM: HubSpot provides an easy-to-use B2B CRM platform focused on inbound marketing and sales. It's a popular choice for small to medium-sized organizations looking for an easy-to-use, integrated solution.
Pricing: HubSpot's CRM software offers a free basic version with paid add-ons for more advanced features. Paid plans, including Sales Hub and Service Hub, start at around $50 per month per user.
Key Features:
Contact and lead management
Email tracking and automation
Marketing automation
Sales analytics and reporting
Integrations with HubSpot's other marketing and sales tools
Zoho CRM: Zoho CRM is an affordable, feature-rich B2B CRM system that is appropriate for organizations of all sizes. It offers a wide range of solutions for streamlining sales, marketing, and customer service activities.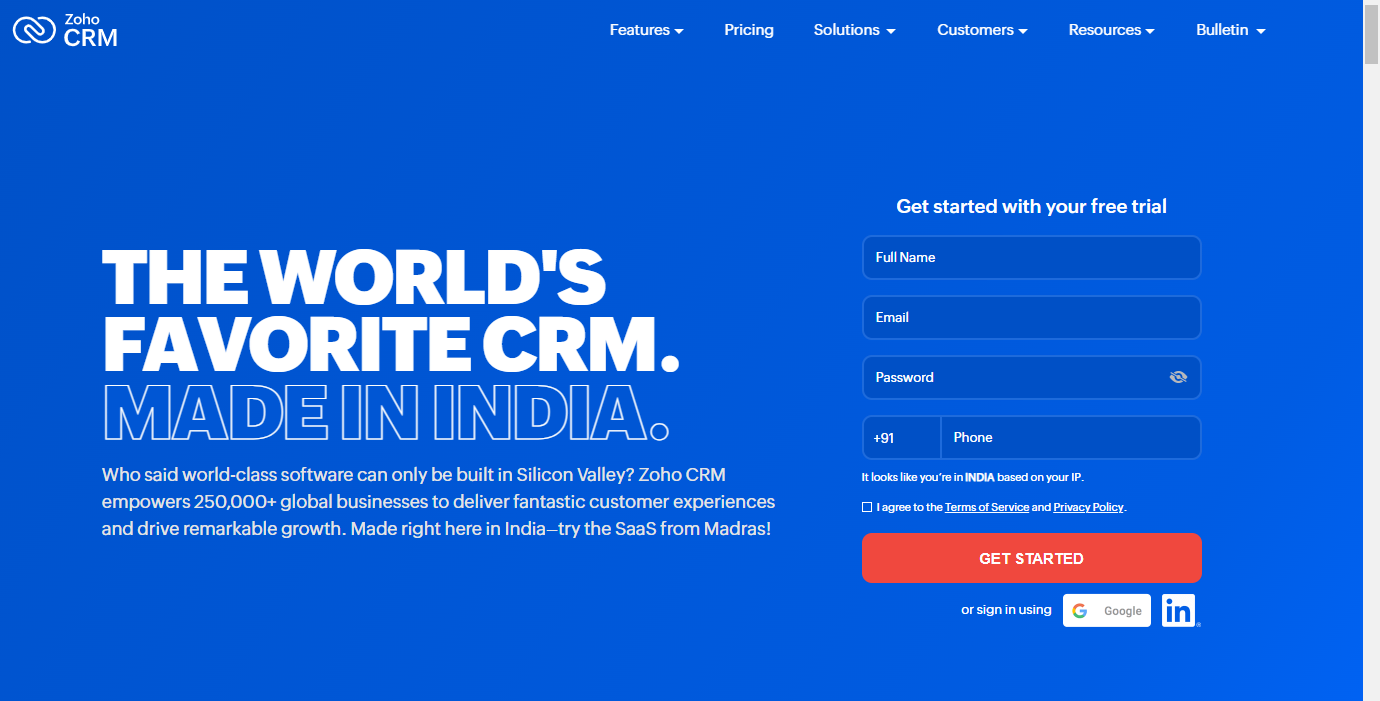 Pricing: Zoho CRM offers a free version with limited features and paid plans starting at around $12 per user per month. More advanced plans are available, providing additional features and customization options.
Key Features:
Sales automation and workflow management
Email marketing and social media integration
Advanced analytics and reporting
Mobile CRM capabilities
Integration with other Zoho applications
Salesforce: Salesforce is the broad CRM market leader, offering a wide range of solutions for B2B companies. It's known for its flexibility and scalability, catering to businesses of all sizes.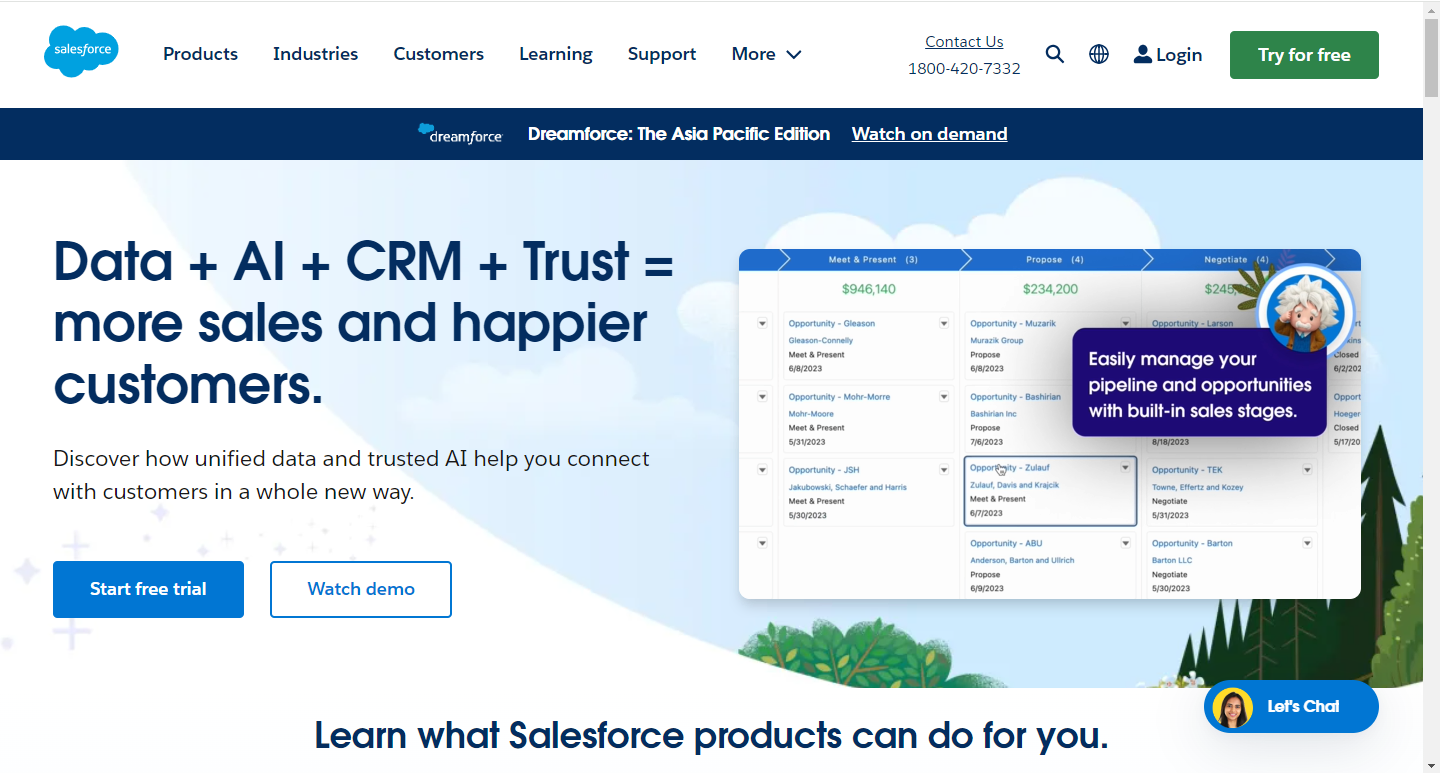 Pricing: Salesforce pricing varies depending on the edition and features. The "Sales Cloud" starts at $25/user/month, while the "Enterprise" edition is $150/user/month.
Key Features:
lead and opportunity management
sales forecasting, customer support
marketing automation
robust reporting and analytics.
Microsoft Dynamics 365: Microsoft's CRM offering, Dynamics 365, offers B2B organizations a comprehensive range of business applications, including CRM and ERP.
Pricing: Pricing varies based on the specific Dynamics 365 modules and user requirements. The "Sales" module starts at $65/user/month.
Key Features:
sales force automation
marketing automation
customer service
analytics with seamless integration with other Microsoft products like Office 365
What Makes the Best

B2B CRM

Software?
Needs differ from business to business, but here are a few of the most significant features to look for in a B2B CRM:
Customization and Flexibility: B2B companies frequently have their own processes and language. The greatest CRM systems are adaptable and can be tailored to a company's specific workflows and requirements.
Ease of Use: When a CRM is simple to understand and use, your team can gain more value from it faster.
Scalability: A B2B CRM system should be flexible to handle an increasing number of accounts, contacts, and interactions as the B2B organization grows.
Customer Support: Even with the most user-friendly CRM system, you will almost certainly require customer support at some point. Look for a CRM platform that provides helpful, professional customer service.
Integration Capabilities: B2B companies often use many different tools, therefore it's important that their CRM software can interact with the other tools and systems they use.
Conclusion
Efficient Customer Relationship Management (CRM) is critical for the success of businesses engaged in the dynamic world of business-to-business (B2B) contacts. As we approach 2024, the best B2B CRM software provider will have a huge impact on your company's operations . SalesTown CRM stands out as a revolutionary solution that can help streamline operations, increase sales, and enhance customer satisfaction.
Frequently Asked Questions

( Faqs )
Q. Who is the Best b2b CRM Software provider?
SalesTown stands out as a No 1 b2b CRM Software provider, recognized for its innovative solutions that seamlessly integrate AI and automation, empowering businesses to enhance customer relationships and drive sales growth.
Q. What features should I look for in Best B2B CRM software?
Contact management, lead tracking, opportunity management, pipeline management, integration capabilities, reporting and analytics, and mobile accessibility are all desirable characteristics.
Q. How does B2B CRM differ from B2C CRM?
While both B2B and B2C CRMs share common features, B2B CRM typically focuses on longer sales cycles, account-based selling, and complex relationship management. B2C CRM, on the other hand, is often more transactional and focuses on individual consumer interactions.
Q. Why SalesTown over Salesforce?
SalesTown is better than Salesforce for sales and marketing, as well as being one of the best CRMs for small businesses, thanks to its robust free plan. in addition, it provides additional avenues for client communication.
Tags:-
b2b crm
,
b2b crm case study
,
b2b crm companies
,
B2B CRM Software
,
B2B CRM Software Provider
,
b2b crm solutions
,
b2b crm strategies
,
b2b crm system
,
b2b crm tools
,
b2b crm trends
,
Best B2B CRM
,
best b2b crm software
,
best crm for b2b sales
,
crm b2b best practices
,
crm b2b marketing
,
crm for b2b business
,
crm for b2b sales
,
crm in b2b business
,
crm in b2b markets
,
crm strategy for b2b
,
crm system b2b
,
importance of crm in b2b
,
sales b2b crm
,
What is B2B CRM Software
,